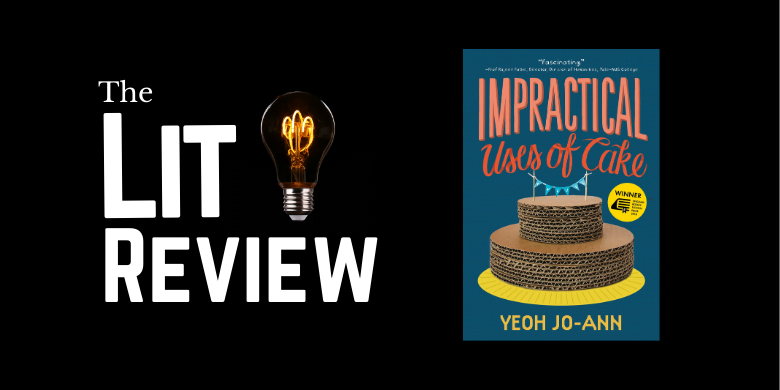 by Elaine Lau
Friends know that I'm a sucker for cake. I am also a sucker for books with interesting titles. And so, when I came across Yeoh Jo-Ann's debut novel, Impractical Uses of Cake, winner of Singaporean publisher Epigram's Fiction Prize 2018, I had to bite. And what a treat it turned out to be.
Different types of cake – yuzu coconut cream, lemon sponge, sugee, coffee pound, and orange chiffon, to name a few – feature throughout the novel, as the main character, 35-year-old English literature teacher Sukhin, is something of a cake fiend. He loves eating them, baking them, and sharing them. In one hilarious and all too relatable scene (to me, at least), Sukhin is out on a date with a woman who chooses an organic soy latte over cake for dessert, and he spirals into an internal monologue where it dawns on him that the love of cake is a criterion to be considered "his people".
One person who does share his fondness for cake is Jinn, his former secondary school sweetheart whom he stumbles upon one afternoon in Chinatown. He discovers to his astonishment that Jinn is now living as a homeless person in cardboard boxes in an alleyway. She disappeared several years ago and he had taken her for dead. Seeing her again shakes him to the core.
Sukhin sets about to slowly unravel the mystery surrounding her initial disappearance and present situation, and he does so with the patience of a saint. He doesn't demand answers right off the bat; he discerns that she will open up in her own time, on her own terms. Meanwhile, Sukhin finds himself fashioning ever more elaborate "shelter" out of cardboard boxes for Jinn and baking her cakes to sample. This beautiful portrayal of a gentle friendship, of what it means to be there for someone, is startling and heartwarming to behold.
The novel also touches on this whole notion of seeing the unseen – both in the sense of discovering Jinn again, but also in the broader sense of the urban homeless, an invisible segment of Singapore society. More pointedly, the novel deftly explores how life isn't just what happens to you but what you make of it, and how the only way to truly live is according to your authentic self, even if the choices you make seem nonsensical to the rest of the world.
Yeoh's writing sparkles with wit and empathy in this poignant, quirky novel told in an unhurried pace that's part of its charm. Sukhin as a character is likeable, and I appreciated the literary references peppered throughout the book (he is, after all, a literature teacher).
Like a good lemon pound cake (a personal favourite of mine), this novel has substance but isn't dense. It strikes the perfect balance between sweetness and tartness, and it is tender and charming without being saccharine. The story gives you plenty to chew on but doesn't sit heavy on the stomach.
Verdict: A sensitive, lovely tale with a touch of whimsy (8/10)
Availability: Paperback, RM45