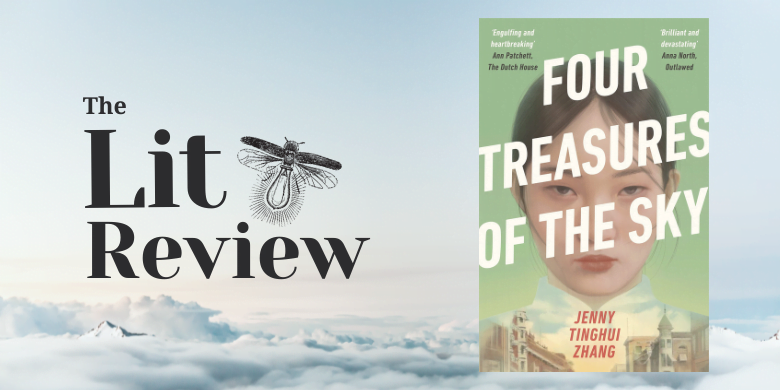 by Cass Chia
When I started reading Jenny Tinghui Zhang's Four Treasures of the Sky, seated behind the counter at work, I wasn't expecting to fall so deeply in love. A stirring debut of historical and literary fiction, Four Treasures explores a young girl's coming of age set against the backdrop of historical and personal tragedy.
Born in 19th-century China to a loving family, 13-year-old Daiyu has spent her life in the shadow of her namesake Lin Daiyu — a doomed maiden from Chinese folklore. When Daiyu loses her parents under ominous circumstances, she can't help but feel that her name is to blame. Her grandmother sends Daiyu off to Zhifu, a seaport town, disguised as a boy named Feng, where she meets Master Wang, the owner of a calligraphy school. With his guidance, Daiyu unlocks a love for calligraphy that breathes new life into her distressing world.
But her fate sours once again when she is abducted, smuggled across the ocean and sold to a brothel. In America, Daiyu becomes Peony. Every day is a fight for survival with only Master Wang's teachings for comfort. When an opportunity to return to China arises, Daiyu manages to escape the brothel only to face cruel betrayal. She ends up in Pierce, Idaho, where she is taken in by two Chinese shopkeepers, Nam and Lum, and a violinist named Nelson — all of whom know her as Jacob Li. As anti-Chinese sentiment spreads across the country, Daiyu's newfound stability is threatened, and she faces a difficult choice: should she stay or go?
Four Treasures of the Sky is a powerful story about searching for identity despite extreme circumstances. As I sat to write this review, I was stumped on what to even call the narrator. Daiyu, Feng, Peony, Jacob Li. Which name is the most truthful to the character? Which name is the least? Is she all of them at once, or something else entirely? (The answer to why I landed on 'Daiyu' lies in the ending, so no spoilers!) To most of us, finding who we are is an organic process; to Daiyu, that timeline is a luxury. Seeing Daiyu deal with impossible situations time and time again with the measliest of resources is a gruelling experience. But the high stakes are what make her hero's journey so compelling. When Daiyu finally succeeds and learns to forge her own identity, I was moved, haunted and ultimately satisfied.
In terms of craft, the book is elegant in its economy. The writing is buoyant, the pacing quick, and the world brilliantly immersive. What makes Four Treasures special, however, is how it bridges lyrical prose and loaded subject matter, especially given that part of the book was inspired by real-world events following the Chinese Exclusion Act of 1882. Zhang deftly delivers emotional punches one after another, and you barely have time to appreciate the setup before feeling the blow. Here's a little taste of what I mean:
"[In America], I am special. The white people make me that way. Why else would they step aside when I walk by, or avoid my eyes, or whisper things that I cannot hear under their breath? My body is covered in the syllables of another language, the scroll of a kingdom that has existed long before they did and will continue existing long after they are gone. I am something they cannot fathom. I am something they fear. We all are." (207-208)
Thus, Zhang proclaims the beauty in pain, and how that beauty is anchored in art, history and community.
This book has earned its place as one of my favorite books, period. If you're in the market for a heartbreaker, Four Treasures of the Sky is for you. Prepare to be sucked in and sucked dry.
Get a copy of the book here.