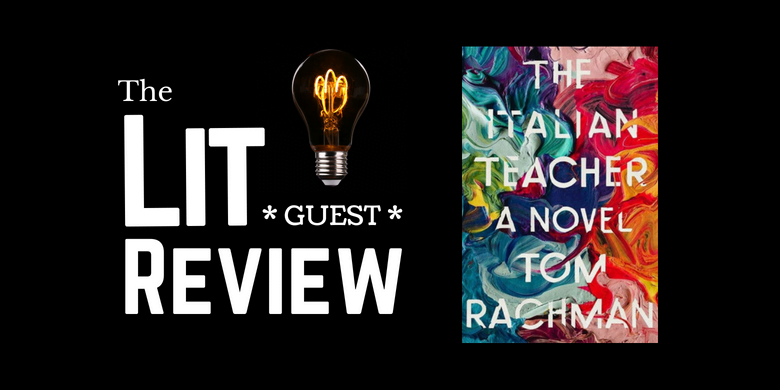 We're delighted to have a new guest contributor, Emily Ding, write for us. Here's her first review.
Who: A few years ago, Tom Rachman — who used to work as a foreign correspondent for the Associated Press in Rome — published The Imperfectionists, his debut novel/linked short stories about a bunch of hacks working at a English-language paper in Rome, to critical acclaim. That was my introduction to his work, and because of that book I would read anything else he writes. He also wrote another novel, The Rise and Fall of Great Powers, and Basket of Deplorables, a collection of short stories inspired by Trumpian America.
What and Why: If, like me, you saw Mother! or Phantom Thread before picking up The Italian Teacher, you might initially be a little put off by its opening pages depicting a bullishly charming painter whose wife and son live in his shadow. But keep at it. It'll very soon become clear that Bear Bavinsky is not actually the central character in this story; it's his son, Charles "Pinch" Bavinsky, who, through boyhood, manhood and old age, never shakes off his need for his father's approval. And the only way to win Bear's approval is to feed his ego as an artist, even as the man is, with the passing of time and the fickleness of taste, relegated to a once-been.
Having grown up so close to fame with a celebrated father, Pinch is a young man with "needy ambitions" — expressed more as a desire to be seen and loved by his father and the world than any self-directed sense of purpose or impulse. When his budding skills as a painter —imitating his father's work: studying parts of the human body in isolation — are abruptly dismissed, Pinch decides that he will write a biography of Bear Bavinsky instead. He can already picture it: The book will become critically acclaimed, and he will establish himself as an art critic. And yet, how can he, when everything he reveres and loathes is determined by what Bear reveres and loathes? Pinch is the guy who clings to what the people he worships say and do, and when they disavow what they've said or done he feels betrayed, because he never had the strength of his own convictions in the first place. Equally, his ambition sullies his friendships and relationships: He sees people for the figures of importance they might become — which would reinforce his own importance — rather than who they really are.
In less adept hands, Pinch might come across as a little insufferable, but Rachman has a knack — similarly displayed in his debut, The Imperfectionists — for exposing his characters' foibles with clear-eyed tenderness, so that we always recognise, often uncomfortably, bits of ourselves in them. "Nobody likes to be understood without warning," reads one line in the book.
Ultimately, does Pinch ever fulfil his dreams for his life? Does he ever make peace with being the seemingly second-rate son of a famous man? In attempting to answer these questions, Rachman asks so many more: What's the point of making art: to create something good or how it makes you feel? What's more important: a rich interior life or a life of public note? Can art and ambition and fame (itself a kind of love) fill the absence of real human love? I'll leave you to find out, and just say that a twist — a secret act of rebellion — comes more than halfway through the book, so wait for it. If at other times the novel seems to be wading through the motions of a man's entire life, with episodes of importance yet unclear, it's because at heart, this is what the story is about: how to build a life — hopefully with a little bit of decency, dignity and accountability, whatever becomes of it.
Verdict: I wonder if the structure might have been played with a little bit to avoid a straight chronology, but otherwise, it's funny, desperate, satirical and moving, all at once. It's the sort of book that will make you ask yourself questions after you've put it down. (7/10)
Availability: In-store soon
Special thanks to Pansing Distribution for a review copy of the book.