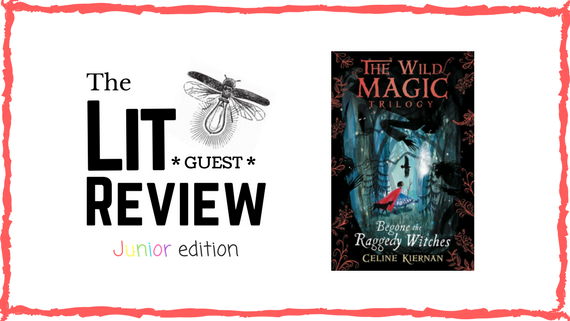 We're happy to welcome another guest reviewer on our Lit Review column, Poon Jin Feng. His first review is a children's book, Begone the Raggedy Witches by Celine Kiernan.
Who: Award-winning author Celine Kiernan is best known for The Moorehawke Trilogy and her 2011 novel, Into the Grey, was the first book to receive both the CBI Book of the Year Award and the CBI Children's Choice Award. Begone the Raggedy Witches is her latest children's novel and is the first book in the The Wild Magic Trilogy.
What: On the day that Aunty Boo passes away, Mup's world turns upside down and her seemingly ordinary life turns out to be anything but. Following their car home from the hospital are the Raggedy Witches who want to lure her mother home to the Witches Borough, where she had been born. Mup's mother did not even know she was capable of magic; Aunty Boo had kept this secret from their little family and without her to protect them anymore, they have to fend for themselves in this entirely unknown world.
The witches kidnap Mup's father and it is up to Mup, her mother, her baby brother Tipper, and their dog Badger to rescue her father from the fantastical land. Tipper is turned into a dog, they meet a conflicted boy called Crow, and encounter the vivid beauty and ugliness of magic depending on who wields it. Young Mup is forced to make hard choices when she finds that the instructions of the adults around her often are at odds with what she believes in her heart to be right and true.
Why: I have been an adult for enough years to confidently wield that title but even I will admit to being utterly captivated by this middle school gem. The action starts on page one and doesn't let up throughout the book, the quick pace making this easy to devour in a single sitting. Kiernan's gift with words is undeniable in the evocative way she conjures up her native Ireland in her literary works, effortlessly weaving magic into setting and story.
Character development is another strong point of hers, with each subject flaunting very real flaws and virtues. One sign of good writing is presenting a perspective of the antagonists that readers can identify or sympathise with. Crow's character especially is one that is difficult to love but equally difficult to vilify, a duality Kiernan handles with appropriate sensitivity. Mup, meanwhile, is a spectacular main character, an oddball heroine well able to carry this entire adventure on her back.
Reading Level: Ages 10 and up
Verdict: An action-packed romp led by a suitably quirky main character and well upheld by a colourful supporting cast. (9/10)
Availability: Paperback, RM44.90
Special thanks to Pansing Distribution for a review copy of the book.