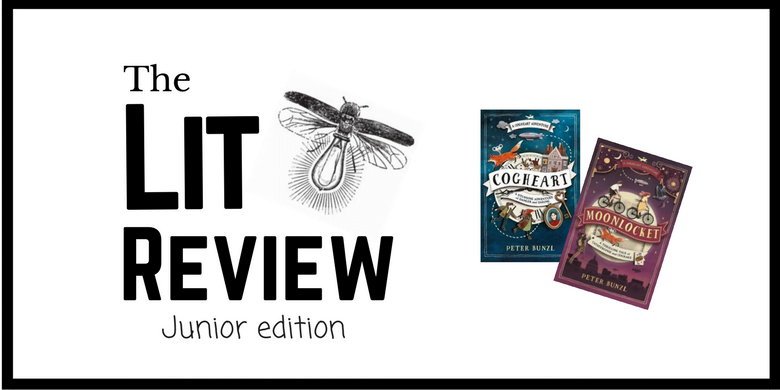 Who: Peter Bunzl is a BAFTA-award-winning animator, as well as a writer and filmmaker. Cogheart is his debut children's novel, and Moonlocket is the second book in the series. The third book is slated to come out some time in 2018.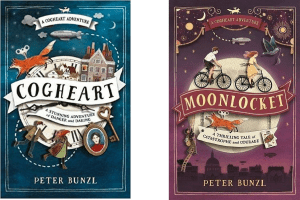 What: Set in a vivid steampunk Victorian era England, Cogheart is the story of spunky Lily Hartman, whose life gets thrown upside-down when her father mysteriously goes missing. She is stalked by silver-eyed men who will do anything to get their hands on one of her father's mechanical inventions, the eponymous Cogheart. Thankfully, she doesn't have to face them alone — she has the help of Robert, the clockmaker's son, and Malkin, her mechanical fox. They also find a friend and ally in newspaper reporter, Anna. As they begin to figure out who the men chasing them are and their reasons for doing so, Lily also uncovers the truth about her family.
In Moonlocket, Robert's past catches up with him when a criminal mastermind, the Jack of Diamonds, breaks out of prison and appears at his father's workshop searching for the mysterious Moonlocket. Robert discovers that the locket is a memento from his mother, who left him and his father when Robert was just a boy. Together with Lily and Malkin, Robert goes on a quest to discover the mystery behind his family only to uncover dark secrets that plunge them further into danger.
Why: The world that author Bunzl has created is one teeming with mechanical wonders — remarkable clockwork animals and beings that need to be wound with a key. But these are no mere machines as they are endowed with the capacity to think and feel. The book brings into relief the question of what makes one human — is it merely the ability to self-propel, or is there something more profound behind automation?
In Cogheart, Lily and Robert both grapple with individual loss, each having to navigate their way through crushing life events and find the courage and strength to carry on. The pace picks up considerably in Moonlocket, with high adventure and strange hijinks thrown into the fray. But ultimately, the overarching theme of the novel is what it means to be family and how one can choose who is family.
Best/Worst Line: "Life can be painful. And if you can't change what's happened today, bide your time, until you're strong enough to fight tomorrow."
Verdict: Bunzl weaves an imaginative and thrilling tale of mystery and adventure, imbued with a lot of heart — great for children aged 9 and up who's hankering for something a little out of the ordinary. (8/10)
Availability: Paperback, RM29.90 each.