Who: Secondary school teacher Muhammad Khan wrote I Am Thunder as a response to the three British schoolgirls who fled to Syria to join ISIS in 2015 — this is Khan's debut YA novel. He took inspiration from the children he teaches, as well as his own upbringing as a British-born Pakistani.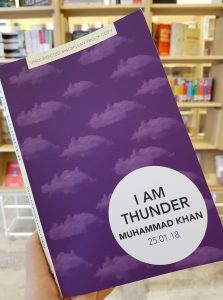 What: Muzna Saleem is a 15-year-old British Pakistani who harbours a secret ambition of becoming a novelist, even though her parents have decided she should become a doctor. Muzna isn't brought up to disobey elders or to rock the boat, and so she goes along with her parents' fantasy. Her quiet and unassuming life gets disrupted when she meets high-school stud, Arif Malik, who, to her utter surprise, takes an interest in her. She discovers a troubling secret about him and his brother bears a grudge against the powers that be for what he perceives to be the demonisation of Islam. As they start down a progressively darker path, Muzna has to make a difficult choice: keep quiet and betray her beliefs, or speak out and betray her heart.
Why: The perennial question of whether to follow the head or heart is addressed in two different scenarios in this bildungsroman. Muzna is made to question her beliefs and desires, and has to find the courage to do the right thing, although it is not always clear what the right thing is. The struggle here is very real.
The novel also examines the idealism of young people and their easy exploitation by opportunists and extreme ideologies. Exploitation, the book carefully shows, is a gradual process that simultaneously preys on vulnerabilities but also reaffirms and panders to the ego. It is a study of contemporary psychology, and attempts an explanation at the all too familiar lament of the naivety and simple idealism of the young.
Best/Worst Line: "I am Muzna. I am the cloud who brings the rain."
Verdict: While the novel is not unpredictable, it is ultimately an empowering and uplifting story with a lot of relevance today for teens and adults alike. (7/10)
Availability: Paperback, RM49.90
Special thanks to Pansing Distribution for the ARC.