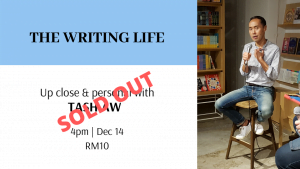 UPDATE: We're sold out of tickets. Thank you all for your support!
We're excited to welcome Tash Aw back to Lit Books in December! For those of you who missed out on his author session in August, this is your chance to catch the London-based award-winning Malaysian author in person. Lit Books' very own Fong Min Hun will be leading the discussion with Tash about his literary life and work.
Tash's latest novel published this year is We, The Survivors, an exploration of class, education and the inescapable workings of destiny through the story of an ordinary man, Ah Hock and the years building up to his appalling act of violence: the murder of a migrant worker. Tash has previously written three critically acclaimed novels — The Harmony Silk Factory (2005), which won the Whitbread First Novel Award and a regional Commonwealth Writers' Prize; Map of the Invisible World (2009) and Five Star Billionaire (2013) — and a work of non-fiction, The Face: Strangers on a Pier (2016). His novels have twice been longlisted for the MAN Booker prize and been translated into 23 languages.
Join us for a casual afternoon of conversation and book signing. Tickets are RM10, which you can use as a rebate towards any purchase on event day.