Malaysian visual artist Red Hong Yi is renowned for her larger-than-life portraits and art installations created using everyday objects and materials not typically associated with art-making: socks, teabags, bamboo chopsticks, eggshells, and coffee stains, to name a few. An architecture graduate who found her true calling in making art, Hong Yi has established a worldwide following with her unique creations and artistic vision.
Hong Yi spent the better part of the pandemic writing How to Paint Without a Brush, an autobiographical survey of her work over the past decade, charting her growth and development as an artist. The book, which features Hong Yi's earliest works and her transformation from promising architect to global artist, was put out by American publisher Abrams in May this year.
Lit Books hosted Hong Yi in an author event on 27 May, 2023, and the wonderfully down-to-earth artist spoke candidly with Fong Min Hun and our audience about how the book came together, her art and journey as an artist. The following is an excerpt from the hour-long chat.
On how the book and its format came to be:
What's amazing about Abrams my publisher is they were open to ideas. They said we could do something that's about your culture as an Asian artist or a compilation of your projects or it can be a materials book… If it's purely autobiographical, they told me from the get-go it might not sell as well as a how-to book. That is why there's a how-to at the back, so it appeals to a more general crowd. I thought if I'm going to come up with a book, I want it to reach as many people as possible.
On the process of writing the book, the challenges and joys:
I found it quite intimidating at first. I love reading, and I do enjoy writing but I never thought of myself as an author… The best advice I was given was just to write the way you speak. I read a lot of advice tips from authors and they said your first draft is going to be bad; you're going to have to edit and edit, which is what happened.
The first draft was hard. I felt it was really rigid and boring. My mom read the first draft and she was like, 'The first page makes me want to sleep.' That was really scary for me and I thought I better get rid of all this jargon and make it more personal. I was trying to make it sound hyper-intellectual at first. But then I thought maybe I should write it in a tone like I'm talking to a friend, so I changed it completely. I quite enjoyed that process.
The introduction was the part that was the hardest for me — to come out and be vulnerable. You're talking about challenges you had, your childhood, and I felt I had to really dig things out of me. That was daunting, but also beautiful, too.
I had [art consultants] Rachel and Beverly from RogueArt help me. I felt I needed feedback from people in the art industry that knows art in the Southeast Asian context so they read the draft and helped me with the edits quite a bit.
I dedicated this book to my mom and dad because they were the ones who taught me how to paint and draw when I was a kid. My mom especially — she had a Picasso print from Ikea in her room and I remember she told me, 'Look at it — it's just a few lines, but you can tell it's a person. You don't have to make it elaborate.' I thought that was so profound.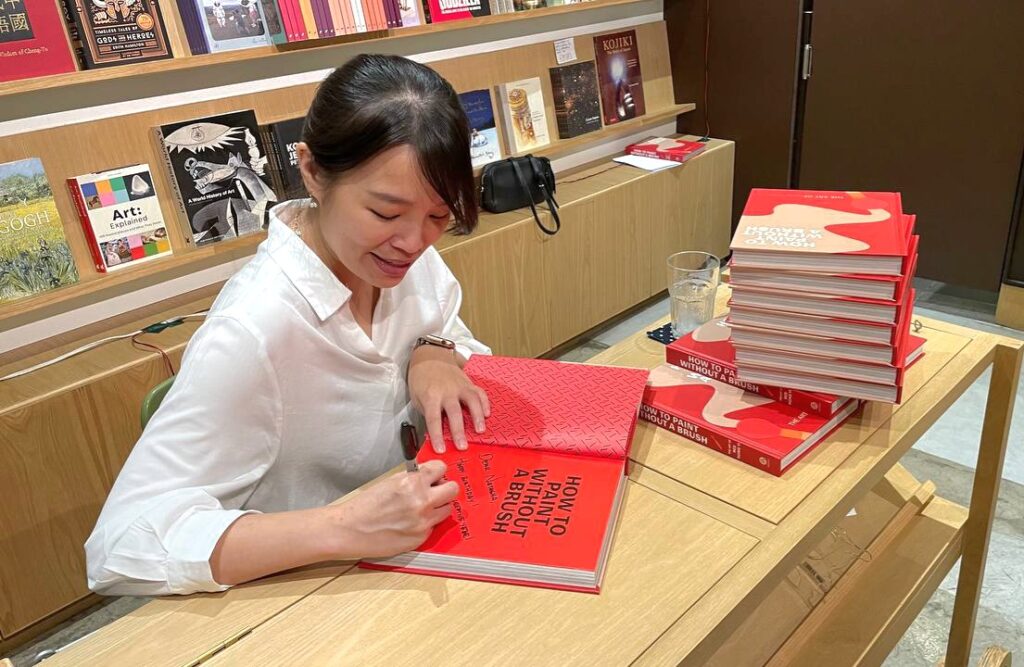 On why she uses materials in her artistic creation:
I think a lot of it really comes from my background in architecture. When I graduated I realised that I really wanted to create all these portraits but painting, which is something I used to do in high school, didn't come naturally to me anymore. What's me is reading floor plans, playing around with the material, understanding space and scale. If I'm going to create art that's really me, I thought I should make it with materials and tools I know best… Till today that speaks to me.
On her wide choice of materials:
I see this book as a compilation of my first 10 years. Some of my early inspirations were artists like Ai Wei Wei, who uses a range of materials. That became my inspiration at the start. My first decade is about experimenting with materials. But the next decade, I do want to stick to a certain type of material and master them. I've been burning red paper in particular and searing that red pigment onto canvas. That's become my focus and I do want everything to be predominantly red — I'm going through this red phase right now. I'm hoping it would become a more recognisable material in the future. 
Signed copies of Red Hong Yi's How to Paint Without a Brush are available in-store and online, while stocks last.