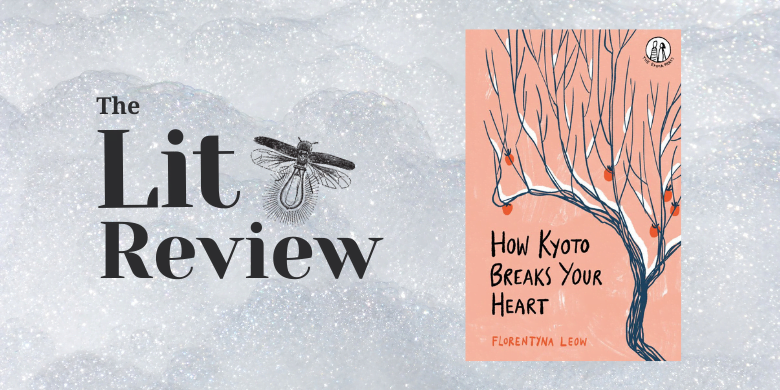 by Elaine Lau
On a month-long cultural exchange trip to Japan as a teen, Malaysian writer Florentyna Leow fell in love with Japan – so much so that the Petaling Jaya-native went on to study Japanese at university in the UK, and moved to Tokyo when a job opportunity came up.
Leow jumped at the chance to move to Kyoto when a friend she'd met at university asked if she wanted to work with her and move in as her housemate as well. It was this time of living and working in this storied Japanese city that forms the spine of Leow's first collection of essays, How Kyoto Breaks Your Heart, put out by independent UK publisher The Emma Press in February.
In an excerpt from the foreword of How Kyoto Breaks Your Heart, Leow writes: "The following pages are a brief record of trying to find a home in Kyoto; a series of sketches, vignettes, and attempts to make sense of all the ways you can love a place. Here's what I've figured out so far: when you try to belong somewhere, your chosen home becomes a reminder of what you stand to lose. It will shape you, make you, break you. To love a place is to love its people, and to love a place is to let it break your heart."
A slim volume of 12 essays, the intimate book tells the stories of the people, places, and food that have left an indelible mark on Leow. She also reflects on friendship, belonging, and unexpectedly, tour-guiding, a side gig Leow picked up during her time there.
I was drawn in to Leow's stories by her poignant, expressive writing.  Pieces on specific streets and places, namely her favourite shotengai or shopping street and the jazz kissa she frequents, are vivid and charming. But there is, nonetheless, a thread of melancholy that darts in and out of the book as she reflects on the painful demise of a friendship. "I often joke that writing the book was like five years of therapy condensed into a month," says Leow in an email interview with Lit Books. 
Most of Leow's professional writing encompasses food and drink (she's written for Gastro Obscura and Japan Times, among others), and there is of course, a sprinkling of that in her book, where she waxes lyrical about persimmons and tea rituals, kakigori and eggs. She credits a food memoir she read when she was 13 as the catalyst. Titled Candyfreak by Steve Almond, it's "a semi-journalistic memoir centred around a candy/chocolate obsession and visiting small candy factories across the US", she says.
"Before reading Candyfreak, I had no idea you could write about food, much less write about food like that – describing how it was made, how this guy ate it, how he felt about it – and the sheer granularity of food images you could conjure through sentences. I read that book obsessively," she adds. "I learned how to use words like 'exude' (as in, the dark chocolate coating of a limited KitKat Dark exudes a puddinglike creaminess) and 'gnash' (as in, the sweet gnash of hickeys) and 'tchotchkes' (as in, a bank of shelves packed to overflowing with candy tchotchkes)… I still read it at least once a year."
How this book of essays came to be published is straightforward enough. Leow says she sent in a proposal to The Emma Press' call for submissions and a few months later, received an email asking to see the manuscript. "I was beset with sudden exhilaration and horror at having to deliver a manuscript which was at the time 10% complete at most," she recalls.
Does she have a favourite from the collection? Leow says, "Not especially, as they represent various aspects of my life and work, but Rainy Day in Kyoto comes quite close as it explores a friendship I cared deeply about. I'm also quite fond of A Bowl of Tea, which is perhaps the most "Kyoto" piece in the collection, as well as the most uplifting and celebratory, tonally speaking."
Residing in a smaller city with a less frenetic pace of life than Tokyo enabled Leow to become more observant of life in general. She says, "Living in Kyoto really taught me the value of slowing down and looking closely at my surroundings. And also remaining curious. I don't always remember this in Tokyo — life here is frenetic at times and I am a total workaholic and homebody — but it is always worth going for a walk and letting the world surprise you… I never used to like plants, nature, or the outdoors. Living in Kyoto for a few years definitely changed that."
Old cities fill us with a sense of wonder and reverence because they are often more than just a collection of people and places. They have a mood, a rhythm, a pulse, a personality; they breathe through you, and you, in turn, find yourself changed and moved by the city. How Kyoto Breaks Your Heart captures some of those elements on the page.
Pick up a copy of How Kyoto Breaks Your Heart in-store and online.