Tan Twan Eng in conversation with Fong Min Hun
January 19 @ 5:00 pm

-

6:30 pm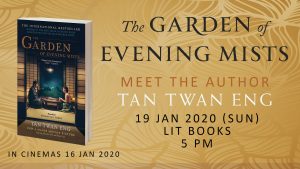 Malaysian author Tan Twan Eng's lush and evocative novel, The Garden of Evening Mists, made the headlines when it won the Man Asian Literary Prize in 2012 and then, the Walter Scott Prize for historical fiction the following year. It once again made the headlines when the novel was adapted into a film that was nominated for nine awards at the 56th Golden Horse Awards 2019 (it took home the Best Makeup & Costume Design accolade).
It's been an incredible journey for Twan Eng and this book, and we're excited to be hosting him at Lit Books in January where he will be speaking about the film adaptation as well as his writing in general with Lit Books founder Fong Min Hun and a special guest moderator. Join us for an evening of stimulating conversation! Free admission.
About the novel:
A story of art, war, love and memory, The Garden of Evening Mists captures a dark moment in history with richness, power and incredible beauty. Teoh Yun Ling was 17 years old when she first heard about Aritomo and the garden. But a war would come to Malaya, and a decade pass before she would travel to see him. A man of extraordinary skill and reputation, Aritomo was once the gardener for the Emperor of Japan, and now Yun Ling needs him. She needs him to help her build a memorial to her beloved sister, killed at the hands of the Japanese. She wants to learn everything Aritomo can teach her, and do her sister proud, but to do so she must also begin a journey into her own past, a past inextricably linked with the secrets of her troubled country.