A dialogue on Nicci Gerrard's What Dementia Teaches Us About Love
July 13 @ 4:00 pm

-

6:00 pm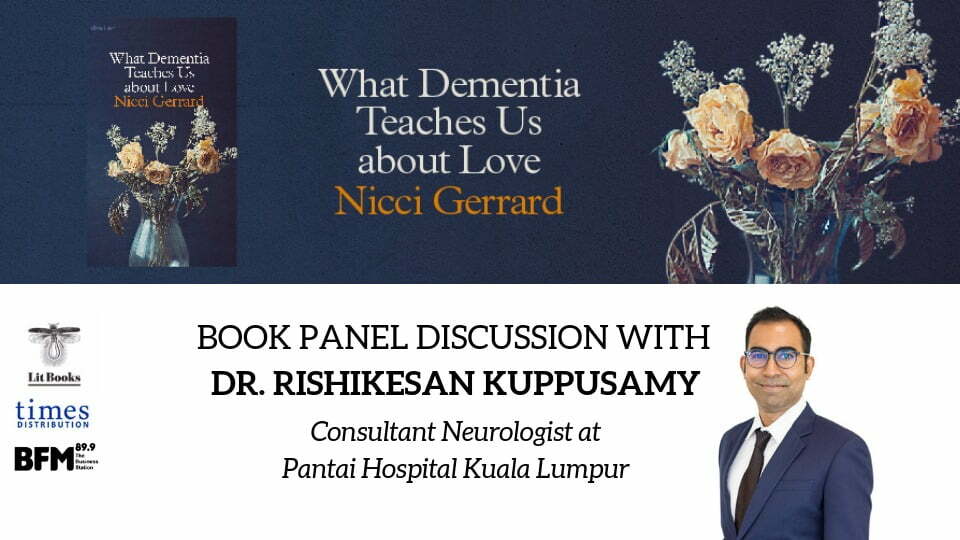 Described by some circles as the "plague of our time" and the "disease of the century", dementia is the price that we pay for our longevity. Incurable and inexorable, the question for our time is less how dementia can be prevented but how patients, caregivers, institutions and society can work together to create meaningful and dignified lives for those afflicted. This is a particularly urgent question for Malaysia as its population becomes an ageing one within the next decade or so.
Nicci Gerrard's new book 'What Dementia Teaches Us About Love' is an urgent and timely reminder of the looming spectre of the disease. Immensely personal — Gerrard's father succumbed to dementia — while remaining objective in its analyses of the disease, the book is a multi-perspective account that challenges traditional assumptions about the disease and offers insight into the some of the trials suffered by patients and their caregivers. 'Dementia' is deeply philosophical, challenging held ideas of what it means to be a "self"; it is also deeply wise, encouraging readers to consider again the definition of a meaningful life.
Additionally, the book also touches on the contemporary clinical understanding of the disease and the way that certain recreational practices, particularly art therapy, help dementia sufferers recover their identity and reintegrate into society. Lastly, Gerrard also writes on the way that dementia patients are helping us redefine and shape our understanding of identity, and in so doing reframing our ideas of what it means to be a self and a human being.
As part of our effort to grow greater public awareness about the disease, Lit Books will be hosting a panel discussion on 'What Dementia Teaches Us About Love' with Dr. Rishikesan Kuppusamy, Consultant Neurologist at Pantai Hospital Kuala Lumpur. Together with BFM89.9 presenter Lee Chwi Lynn and Lit Books founder Fong Min Hun, Dr. Rishikesan will share his views on some of the issues raised in the book, as well as provide subject matter expert information on the disease including early warning signs, diagnostic and patient care. He will also be taking questions from the audience.
FREE ADMISSION