Sweatheart #2
October 19, 2018 @ 8:30 pm

-

10:00 pm

RM20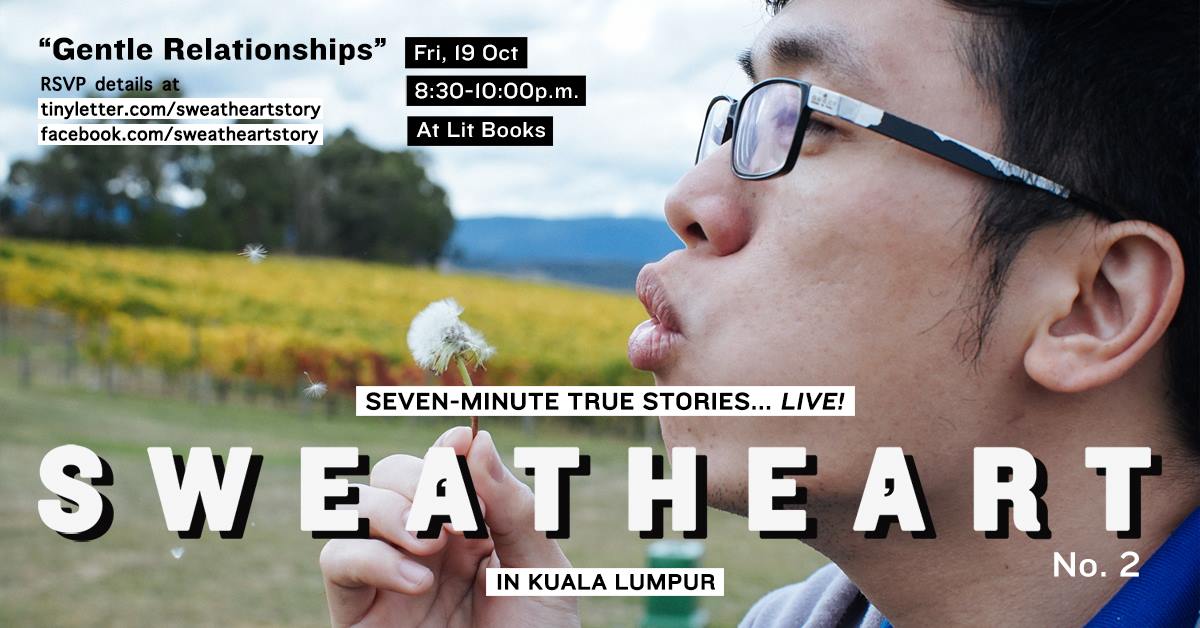 Sweatheart is a live storytelling night in Kuala Lumpur, built on true seven-minute stories told by both seasoned and first-time storytellers.
Find out everything you need to know and subscribe to email updates at tinyletter.com/sweatheartstory
—
So, we had our debut in September, and we're back for another round!
At the last event, we offered up two hats to the audience: one filled with adjectives, the other with nouns. They picked one from each, and came up with "Gentle Relationships". That's the theme for October's stories, and it's completely open to interpretation.
DATE: Friday, 19 October, 2018
TIME: 8:30–10:00pm
VENUE: Lit Books (P-01-11 Tropicana Avenue, 12 Persiaran Tropicana, 47410 Petaling Jaya)
ENTRY: RM20 (To be paid at the door)
Between stories, you can pick at Elaine and Min Hun's bookshelves. There's also a little bar serving wine and coffee.
Planning to come? Please register in advance: bit.ly/2NGNHGy
If you'd like to tell a story (theme: "Gentle Relationships"), please fill in this form: bit.ly/2LRM2vZ
We look forward to seeing you!