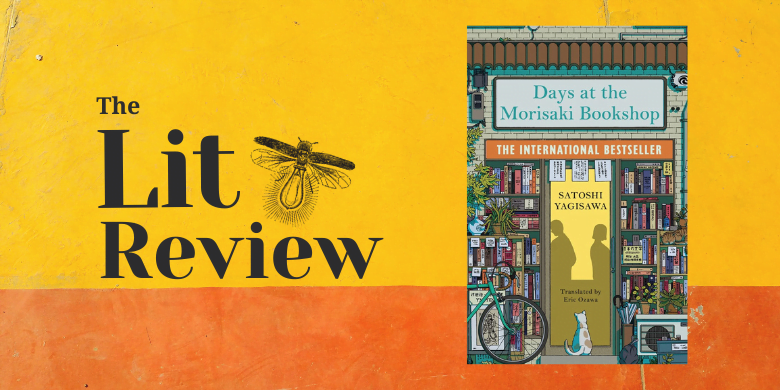 by Fong Min Hun
Elaine and I were in Amsterdam on holiday recently, and made a quick detour to The Hague to see Vermeer's Girl with a Pearl Earring and catch the Escher exhibit. On the way back to the train station, we passed a bookshop just down the road from the Central Station with the following message above the entrance:
"Friend, you stand on sacred ground. This is a Bookshop."
Sadly, we didn't have time to stop in Boekhandel Douwes, but the message on the transom resonated and amused us, reminding us of the high regard and fierce loyalty that book people develop for their favourite bookshops. As a result of which, a mythology develops over time turning the bookshop into hallowed ground. No surprise, then, that bookshops have long been fertile ground for both speculative and documentary writers. 
A recent entry into this long and storied writing tradition is Satoshi Yagisawa's Days at the Morisaki Bookshop, a Chiyoda Literature Prize winner translated into English by Eric Ozawa this year. The story revolves around Takako, an erstwhile office worker who is thrown for a loop when she suffers a psychological setback. Out of the blue, Takako's boyfriend announces to her that he is getting married, but not to her. The news sends Takako into a spiral of depression that subsequently leads her to quit her job and turns her into a shut-in. Takako spends most of her days and nights asleep to keep her emotional pain at bay. Her uncle, Satoru Morisaki, who runs the Morisaki Bookshop in the storied Jimbocho book district, offers to let her live above the bookshop. The offer is made under the guise of helping Takako stretch her savings, but the uncle is clearly more of a meddler than he lets on.
What happens in Morisaki Bookshop should be obvious by now: Takako, a non-reader, takes up residence on the second floor of the shop to begin her involuntary convalescence. One sleepless night following a confessional with her uncle, she chooses a book—or the more romantic of us might say that the book chose her—to while away the time, but instead finds it unputdownable. The book in question, Until the Death of the Girl by Saisei Murō (untranslated in English), keeps her entranced till dawn. Finishing the book, Takako ignites her love of reading and finds new ways of connecting with her uncle and the people around her. During the course of Morisaki Bookshop, we see Takako discuss Osamu Dazai's Schoolgirl with a new friend, attend a local book festival with pure glee, and transform herself into a more expressive and connected being.
The overall plot of Morisaki Bookshop is tropey: the bookshop is a place of succour and books are balms for a bruised soul. There is a daintiness in the story's execution that one typically finds in Japanese light novels, but Morisaki is hardly the worst perpetrator. What makes Morisaki Bookshop worth reading—and it is—is the whirlwind tour through modern Japanese literature that Yagisawa takes us on, the way his love for Jimbocho and bookshops shine throughout the novel, and, yes, dammit, one does care somewhat about what happens to Takako and her uncle. There is also a second part to the book which sees the return of Satoru's wife, Momoko, who walked out on him five years ago. 
Morisaki Bookshop is a charming story that book lovers will find endearing despite its flaws. It pays homage to the saving grace of the act of reading and to the places that house its instruments. In Javier Marias' The Infatuations, Marias has the antagonist, Diaz-Varela, say the following:
It's a novel, and once you've finished a novel, what happened in it is of little importance and soon forgotten. What matters are the possibilities and ideas that the novel's imaginary plot communicates to us and infuses us with…
Book people are interesting for various reasons, but one eccentricity they share is that many of them also tend to enjoy reading about reading: i.e. about books, bookshops, booksellers, libraries, librarians and about other people who enjoy reading. Perhaps it's because these books communicate to them the possibility of an utter life of bliss, a sacred sanctuary bounded by bookshelves. One can but dream.
Days at the Morisaki Bookshop is available in-store and online.