Looking for inspiring and thought-provoking reads? Or perhaps something compelling for the foodie in your life? We've got something here that will fit the bill.
Becoming by Michelle Obama
This intimate, powerful, and inspiring memoir by the former First Lady of the US is a work of deep reflection and mesmerising storytelling. Michelle Obama invites readers into her world, chronicling the experiences that have shaped her — from her childhood on the South Side of Chicago to her years as an executive balancing the demands of motherhood and work, to her time spent at the world's most famous address. With unerring honesty and lively wit, she describes her triumphs and her disappointments, both public and private, telling her full story as she has lived it — in her own words and on her own terms. Warm, wise, and revelatory, Becoming is the deeply personal reckoning of a woman of soul and substance who has steadily defied expectations and whose story inspires us to do the same. (Hardback, RM139.95)
Ali: A Life by Jonathan Eig
Winner of the 2018 PEN/ESPN Award for Literary Sports Writing and winner of The Times Sports Biography of the Year, this is the definitive biography of an American icon from a New York Times bestselling author with unique access to Mohammad Ali's inner circle. Jonathan Eig radically reshapes our understanding of the complicated man who was Ali. Eig had access to all the key people in Ali's life, including his three surviving wives and his managers. He conducted more than 500 interviews and uncovered thousands of pages of previously unreleased FBI and Justice Department files, as well dozens of hours of newly discovered audiotaped interviews from the 1960s. Collectively, they tell Ali's story like never before — the story of a man who was flawed and uncertain and brave beyond belief. (Trade paperback, RM82.90)
21 Lessons for the 21st Century by Yuval Noah Harari
Yuval Noah Harari's new book is a probing and visionary investigation into today's most urgent issues as we move into the uncharted territory of the future. As technology advances faster than our understanding of it, hacking becomes a tactic of war, and the world feels more polarized than ever, Harari addresses the challenge of navigating life in the face of constant and disorienting change and raises the important questions we need to ask ourselves in order to survive.
In 21 accessible chapters that are both provocative and profound, Harari builds on the ideas explored in his previous books, untangling political, technological, social, and existential issues and offering advice on how to prepare for a very different future from the world we now live in. Harari's unique ability to make sense of where we have come from and where we are going has captured the imaginations of millions of readers. Here he invites us to consider values, meaning, and personal engagement in a world full of noise and uncertainty. (Hardback, RM104.90; trade paperback, RM79.90)
Feel Free: Essays by Zadie Smith
Since she burst spectacularly into view with her debut novel almost two decades ago, Zadie Smith has established herself not just as one of the world's preeminent fiction writers, but also a brilliant and singular essayist. She contributes regularly to The New Yorker and the New York Review of Books on a range of subjects, and each piece of hers is a literary event in its own right. Gathering in one place for the first time previously unpublished work, as well as already classic essays such as Joy and Find Your Beach, Feel Free offers a survey of important recent events in culture and politics, as well as Smith's own life. Equally at home in the world of good books and bad politics, Brooklyn-born rappers and the work of Swiss novelists, she is by turns wry, heartfelt, indignant, and incisive — and never any less than perfect company. This is literary journalism at its finest. (Trade paperback, RM86.90)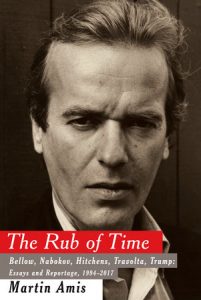 The Rub of Time by Martin Amis
As a journalist, critic and novelist, Martin Amis has always turned his keen intellect and unrivalled prose loose on an astonishing range of topics — politics, sports, celebrity, America, and, of course, literature. Collected here is some of his best nonfiction work from over two decades. Amis writes about finally confronting the effects of aging on his athletic prowess. He revisits the worlds of Bellow and Nabokov, his "twin peaks," masters who have obsessed and inspired him. And he turns his piercingly observant eye on Donald Trump, whom he finds "scowling out from under an omelette of makeup" in the run-up to the 2016 Republican Convention, and at a post-election rally, regarding his crowd of supporters with a "flat sneer of Ozymandian hauteur". Overflowing with startling and singular turns of phrase, and complete with new commentary by the author, The Rub of Time is a vital addition to any bookshelf, and the perfect primer for readers discovering Amis' fierce talents for the first time. (Hardback, RM136.50)
History of the World Map by Map by DK, foreword by Peter Snow
With a foreword by renowned historian Peter Snow and 130 detailed maps that tell the story of pivotal episodes in world history, this coffeetable tome is much more than a history atlas. Purpose-made regional and global maps present the history of the world as it happened, charting how events traced patterns on land and ocean — patterns of exploration, discovery, or conquest that created powerful empires, fragile colonies, or terrifying theatres of war. An interplay of text and graphics leads you around the page so that you can follow the story of civilisations through ancient, medieval, and modern times. At key points in History of the World Map by Map, broad, sweeping introductions provide a chance to step back and look at entire periods, such as World War 2, or to explore overarching themes, such as the Industrial Revolution. Picture spreads, meanwhile, focus on epoch-defining moments or developments, such as fascism and communism, and the invention of printing. (Hardback, RM145)
The Art of War & Other Classics of Eastern Philosophy by Sun Tzu, Lao-Tzu, Confucius, Mencius
The words of ancient Chinese philosophers have influenced other thinkers across the world for more than 2,000 years and continue to shape our ideas today. This beautiful tome includes translations of Sun Tzu's Art of War, Lao-Tzu's Tao Te Ching, the teachings of the master sage Confucius, and the writings of Mencius. From insights on warfare and diplomacy to advice on how to deal with one's neighbours and colleagues, this collection of classical Eastern philosophy will provide readers with countless nuggets of wisdom. (Leather bound, RM129.90)
Mastering the Art of French Cooking (2-volume Set) by Julia Child, Louisette Bertholle, and Simone Beck
The perfect gift for any follower of Julia Child — and any lover of French food — this boxed set brings together Mastering the Art of French Cooking, first published in 1961, and its sequel, Mastering the Art of French Cooking, Volume Two, published in 1970.
Mastering the Art of French Cooking is for both seasoned cooks and beginners who love good food and long to reproduce at home the savoury delights of the classic cuisine, from the historic Gallic masterpieces to the seemingly artless perfection of a dish of spring-green peas. The techniques learned in this beautiful book, with more than one hundred instructive illustrations, can be applied to recipes in all other French cookbooks, making them infinitely usable. Each recipe is worked out step-by-step, with clarity and precision. (Hardback, RM469.95)
Wine Food: New Adventures in Drinking and Cooking by Dana Frank and Andrea Slonecker
Natural wine bar and winery owner Dana Frank partners with author and stylist Andrea Slonecker to deliver 75 recipes for brunches, salads, vegetable dishes, picnics, weeknight dinners, and feasts with friends, all inspired by delicious, affordable wines that go with them beautifully. Each recipe opens with a succinct overview of the wine style that inspired it, describing the grapes and naming the countries the wine comes from, followed by a brief explanation of how it complements the flavours and textures in the recipe. Frank and Slonecker also include a wine flavours cheat sheet, a label lexicon lesson, a short course on wine tasting like a pro, and illustrated features on matching wine with types of favourite foods. With more than 75 atmospheric and recipe photos and 20 watercolour illustrations, Wine Food makes wine education experiential, fun, and especially delicious for wine drinkers of all knowledge levels. (Hardback, RM112.90)
The Joy of Mixology: The Consummate Guide to the Bartender's Craft Revised and Updated Edition by Gary Regan
This is a thoroughly updated edition of the 2003 classic that home and professional bartenders alike refer to as their cocktail bible. Gary Regan, the "most-read cocktail expert around", has revised his original tome for the 15th anniversary with new material: many more cocktail recipes — including smart revisions to the originals — and fascinating information on the drink making revival that has popped up in the past decade, confirming once again that this is the only cocktail reference you need. (Hardback, RM139.90)
A Sidecar Named Desire: Great Writers and the Booze That Stirred Them by Greg Clarke and Monte Beauchamp
This is a rollicking illustrated history of alcohol and its literary imbibers, from Jane Austen's beer brewing to James Joyce's passion for Guinness to E.B. White's cure for writers' block — a dry martini — by celebrated illustrator Greg Clarke and award-winning editor/art director Monte Beauchamp.
Throughout history, there has been no greater catalyst for creativity among writers, so they claim, than a good, stiff drink. In this graphic volume, the authors take us on an unforgettable literary bar crawl, packed with historical factoids, anecdotes, booze trivia, and fascinating detours into the lives of our favourite writers, along with literary-themed cocktail recipes such as Ernest Hemingway's Death in the Afternoon and Philip Larkin's Gin and Tonic set to verse. For the literary-minded drinker, whether wine, gin, vodka, beer, whiskey, or tequila is your elixir of choice, A Sidecar Named Desire will whet your appetite. (Hardback, RM77.90)